"Xenophobe, Racist, Bigot, Islamaphobe"  Those are some of the insults often hurled at people who would like some constraints on Muslim immigration.
I've even seen "white-nationalist, unchristian, Nazi, Hitler"
Ok, let's dial it back a bit shall we?  Wow.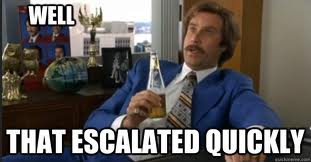 Barack Obama did impose a ban on Iraqi immigration during his term as well.  How come he wasn't called those names?
But leave that aside, that's just a warm up question.
The honest question to those people who call people those names:
1.  "Would they let strangers live in their home?  If not, why not?"
– Because it's not safe
– fear of being assaulted
– They might rob me.
– They might be a financial burden.
– They might negatively affect the culture of the household.
Now it's their turn to be called a xenophobic, bigot, heartless, racist, etc.
2.  Why not call them those names?
Because their concerns are very valid.  Those are exactly the same concerns people have about Muslim immigration.  In addition to terrorism concerns.
People should not be called names for wanting basic things like safety.  That disregards their agency.  Which in itself is kind of a bigoted, disrespectful, compassionless, lacking in understanding, etc.
3.  Are the concerns really valid?
We don't have to guess.  Europe has provided us with a great case study for us to learn from.  Europe has let in million of Muslim immigrants in the last few years, largely due to the Syrian refugee crisis.  How has it gone?
Not well to put it mildly.
Muslim immigration has caused a rape crisis all over Europe.  In the UK "sex-grooming" Muslim gangs target, rape and pimp out young women or girls.
This is endemic of Islamic culture.  In some Muslim countries women can legally be killed for things like turning away from Islam, disobeying a man or refusing an arranged marriage.
Women are treated like second-class citizens or property, not equal to males.  Some Muslim clerics justify rape because women were not covered head to toe.
Crime is disproportionately represented in Muslim males.
44% of prison inmates in England are Muslim.  Despite only 5% of the population being Muslim.
70% of prison inmates in France are Muslim.  Despite only 8% of the population being Muslim.
9.4% of prison inmates in America are Muslim.  Despite only 1% of the population being Muslim.
Unemployment rates are high.  Immigrants often do not have skills or know the language.  This results in the majority being served by welfare.  This is at the expense of the taxpayer and national debt of these countries.
That's not even to mention the problem of terrorism.
It's so bad in some European countries they have started paying Muslim immigrants to go back to their home countries.
Europeans know it.  A poll of 10 European countries showed that after experiencing the effects of Muslim immigration for years, an overwhelming majority of Europeans want to put an end Muslim immigration: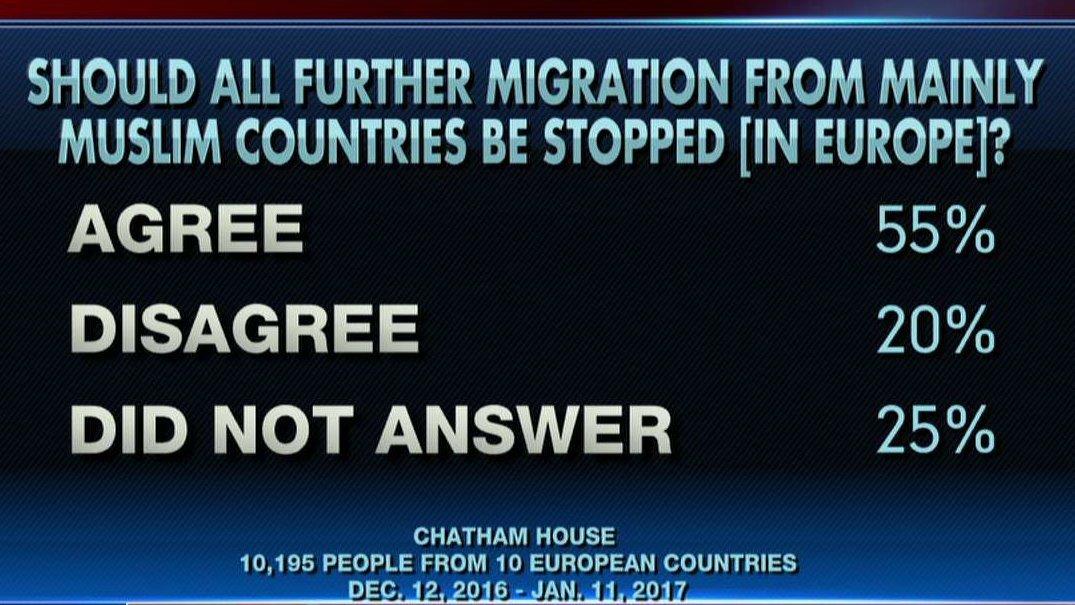 Here is the hardest question yet:
4.  How many X number of rapes, assaults, murders, terrorist attacks are acceptable in exchange for accepting Muslim immigrants into the country?
That is the reality of the choice.  It's much easier to close one's eyes to the realities of the world.  But that is the mentality of a 5-year-old girl who wants to invite everyone to a tea party and expect the best.
We're not 5 anyone.  It's time to grow up.
Not facing these issues honestly is a form of escapism.  Escapism is rooted in selfishness.  True compassion and love faces and makes hard decisions.
5.  "what about the immigrants?"
We can help them where they are.  It costs 1/12th the amount to help someone in the middle east in their own land rather than importing them into America.  Their own country where they are more familiar with the language and culture.
Because as we've seen by the example of Europe, Muslim immigration into western cultures does not work very well. It's time we grew up as a country and admitted what Europe already has.  Because the escapism crybaby tantrums don't help anyone.